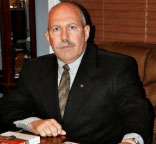 Instructors at Global Police Solutions LLC
Mario De Lucia
SME: Criminal Investigation

Mario is a retired Police Detective from the New York City Police Department.  After serving as a Patrolman for the first several years of his career, Mario worked in the investigation aspect of police work, completing his career with the Manhattan Warrant Squad, Violent Predator Task Force, and then as a Squad Detective in Brooklyn North's Bedford-Stuyvesant area, where he specialized in Robbery and Homicide investigations.  In the mid 1990's, Mario took a one year leave from the Police Department to work with the United Nations in Bosnia, where he was the Human Rights Investigator in Central Bosnia.  Upon his retirement from the New York City Police Department, after months of evidence collection at the World Trade Center sites in New York City, Mario relocated to East Tennessee.  He served as a Patrolman with the City of Oak Ridge, before taking an assignment with the U.S. State Department in Iraq.  During his three and a half year tenure as a Police Advisor and Senior Trainer in Iraq, Mario served more than two years as the Inspector General for Police Training and Advisory Mission country-wide. 
In addition to any college-based education, most of which has been obtained at the Central Texas College and University of Maryland European campuses while serving as a Military Policeman in Germany, and John Jay College of Criminal Justice, through the New York City Police Department;
Mario brings with him, a tremendous amount of police experience and a wealth of Criminal Investigation experience. He is eager to assist police officers in their endeavors to become well educated in the field of law enforcement and more professional servants of the public trust.