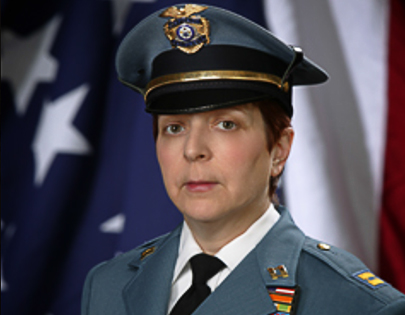 Instructors at Global Police Solutions LLC
Donna Roman, Captain, CPD
SME:Domestic Violence Police Specialist                                             
Certified LE Instructor, Bilingual – English/Spanish,
Published Author, Motivational Speaker
Degree: BS in Criminal Justice, Rutgers University
Phi Beta Kappa Society Inductee May 1998
Professional Membership: ILEETA, IACP, National Coalition of Latino Officers – Executive Board, Hispanic American LE Association – Executive Board, NJ Women in Law Enforcement – Advisory Board, Women in Blue – Founder     
  Captain Donna Roman served in law enforcement for 26 years with the Essex County Police and Caldwell Police Departments in New Jersey. She was the first female officer hired by the Caldwell Police Department and its first female to
achieve a command rank within the Department.
Captain Roman possesses extensive leadership, supervisory and investigatory experience. During her tenure as Captain, she was the second in command of the Caldwell Police Department and commanded the Patrol Division/Operations, the Domestic Violence/Victim Services Unit, Dispatch Communications and the Domestic Violence Response Team (DVRT). She was the Accreditation Manager and In-Service Domestic Violence Trainer for the Caldwell Police Department and a Police Academy Instructor. Captain Roman was the Essex County Domestic Violence Response Team Coordinator for the NJ Division of Criminal Justice. She organized and trained the civilian volunteer advocates for the West Essex [NJ] Domestic Violence Response Team (DVRT). In 2006 Captain Roman was named the 1st Runner-up for the National Positive Award for heroism in the line of duty for rescuing a victim of domestic violence from her batterer. She has extensive experience and knowledge in investigating and prosecuting cases of domestic violence and sexual assault. For 15 years, she was a Police Trainer with the NJ Office of the Attorney General's Advanced Domestic Violence Training Team, teaching the Fundamentals and Advanced Course for the Investigation and Prosecution of Domestic Violence Cases to thousands of law enforcement officers throughout New Jersey.
  Captain Roman is a certified Domestic Violence Police Specialist and a Court Certified Domestic Violence Expert. She is a Master Trainer in Domestic Violence and Sexual Assault and is certified to teach the 40-hour Domestic Violence Response Team Training Curriculum. She served on the NJ Governor's Advisory Council Against Sexual Assault. Her training expertise includes domestic violence; sexual assault investigations; officer-involved domestic violence; human trafficking; abuse of the elderly, disabled and impaired; and women in law enforcement topics.
  Currently, Captain Roman is authoring two books: Domestic Violence Kills and Battered Blue. Captain Roman is the Managing Editor and writes a monthly column for a law enforcement publication NJ Blue Now Magazine. She is the founder of Violence Intervention and Prevention Specialists and is a keynote and motivational speaker.

  Captain Roman is a radio talk show personality and hosts two internet talk radio shows: Tough Justice and The Jersey Beat. She is the Public Relations Liaison for the National Coalition of Latino Officers (NCLO) and the Hispanic American Law Enforcement Association (HALEA). Captain Roman is a member of ILETTA and is a Law Enforcement Advisory Board member of the NJ Coalition Against Sexual Assault and the Essex County Courts [NJ] Domestic Violence Working Group. She holds a Bachelor of Science in Criminal Justice.